What Are The Most Common DJ Types?
Not all DJs are the equal. Just as there are a variety of different makeup artists and photographers, there are a dozen or more types of DJs in the entertainment industry. When it comes to finding a provider of music for your special day, make sure that you choose a DJ who has wedding experience and who you think will be a good fit for your guests.
Below is a list of the different types of DJ you may run into while searching for the right one: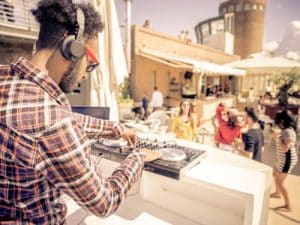 Local DJ
Sometimes known as a club or freelance DJ, Local DJs perform in your town's nightclubs, bars, restaurants and a variety of other venue's. In your local bars you'll find everything from expert DJs tearing up the dancefloor to amateur DJs making their debut set. Since almost all types of DJs perform at bars and clubs at some point, there may be a huge variance in skill and ability among local DJs.
Pros: Easy to find and many to choose from.
Cons: May not have much wedding experience.
Should I hire a Local DJ for my wedding?
Not unless they have wedding experience and you have a trusted recommendation. Just because somebody played some good music at a bar does not mean they will be able handle the many responsibilities of a Wedding DJ.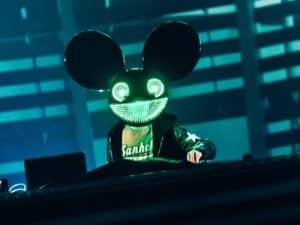 Celebrity DJ
A DJ who is famous for producing and/or performing their own music, and remixes of other artists' music at festivals, concerts, or as the main act at a nightclub. Although we call them DJs, they are typically focused on music production, and they have a large established following of listeners.
Some examples of Celebrity DJs are;
Tiesto

Avicii

David Guetta

Deadmau5
Pros: Master of their craft.
Cons: The most expensive option.
Should I hire a Celebrity DJ for my wedding?
Yes! If you can afford it.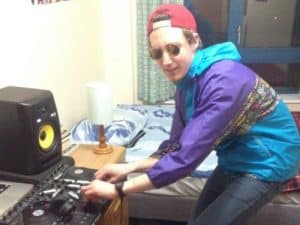 Bedroom DJ
A bedroom DJ is a nickname given to DJs who are just starting out with a small setup in their bedroom where they can practice mixing. It's a great place to start, but bedroom DJs lack many of the necessary skills required to perform well at a wedding, from choosing music for all age groups to troubleshooting equipment malfunctions.
Pros: There are a lot of them.
Cons: Is not a DJ you'd want to hire for a wedding.
Should I hire a Bedroom DJ for my wedding?
Inexperienced DJ's are not recommended for complex vents such as weddings.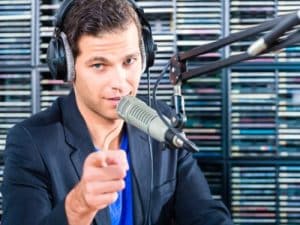 Radio DJ
A radio DJ works for a local radio station and typically cues up music during live programming, reads announcements, and likely performs mixes of popular music. Since each station typically only has one or two DJs, these jobs are highly coveted and radio DJs are often quite talented, depending on the station. They share a lot of similarities with wedding or celebrity DJs, as they often go to events with the radio station and are used to performing at remote setups.
Pros: Skilled in multiple genres, used to remote setups and microphone work.
Cons: Not all radio DJ's will have experience with running services at a wedding.
Should I hire a Radio DJ for my wedding?
Yes, as long as they have some wedding experience.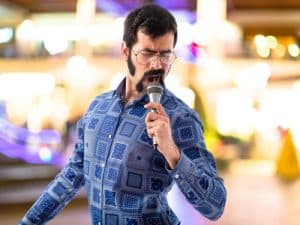 Karaoke DJ
This is a DJ who sets up at local bars or remote booths to perform karaoke. These DJs play a backing track with a monitor that displays the lyrics so guests can sing along. Although they are still commonly referred to as DJs, they usually do not use turntables to mix music and are quite different in range of experience. Some professional wedding DJs will offer Karaoke as a package add-on.
Pros: Who doesn't love a sing-a-long!
Cons: Does not use the same equipment as other DJs, nor have the same experience.
Should I hire a Karaoke DJ for my wedding?
Not unless you really really really LOVE Karaoke.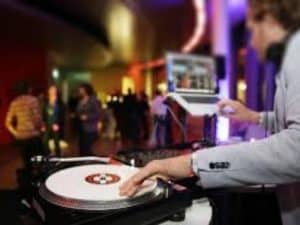 Wedding DJ
aka Mobile DJ, Events DJ, Corporate DJ, Freelance DJ.
A Wedding DJ is a type of Mobile DJ who travels to the event with their own equipment. Many of the best Wedding DJs have established companies that are licensed & insured and offer all inclusive packages and services for weddings, corporate events, schools, proms, and private parties.
Pros: Tons of experience with weddings.
Cons: A lot of options to sort through.
Should I hire a Wedding DJ for my wedding?
Absolutely. A Wedding DJ is by far the best type of DJ for your wedding.