Oshawa DJ Services
Affordable DJ Services in Oshawa, Ontario
Join Our Team Of Professional DJs in Oshawa
We are seeking a handful of outgoing individuals who are passionate about djing to join our growing team of professional DJs who service the wedding, corporate and private event industry. 
Oshawa's Top New DJ Company
Are you searching for the perfect DJ service to make your wedding in Oshawa an unforgettable celebration? Look no further than Legendary Sound! We are the premier wedding DJ company in Oshawa, dedicated to delivering exceptional experiences that will have your guests dancing the night away.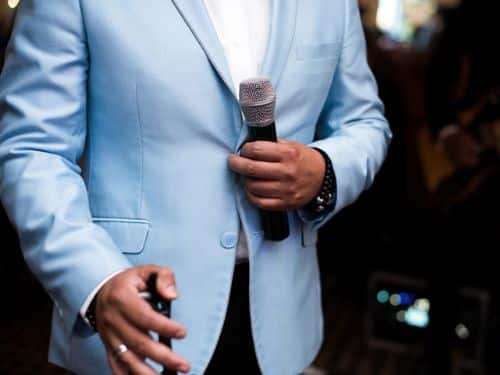 Why Choose Legendary Sound Wedding DJ Services for Your Oshawa Wedding?
Unmatched Expertise: With years of experience in the wedding industry, we know exactly how to create the perfect ambiance for your special day. Our talented DJs are skilled at reading the crowd and curating playlists that keep the dance floor alive throughout the event.
Passion for Weddings: At Legendary Sound, we are passionate about weddings! We understand that your wedding day is one of the most important moments of your life, and we are committed to making it truly legendary. Our attention to detail and personalized approach ensure that your wedding will reflect your unique style and personality.
Extensive Music Library: Our vast music library spans across genres and eras, guaranteeing that we have the perfect song for every moment of your wedding. Whether you prefer classic love ballads or the latest chart-toppers, we have you covered.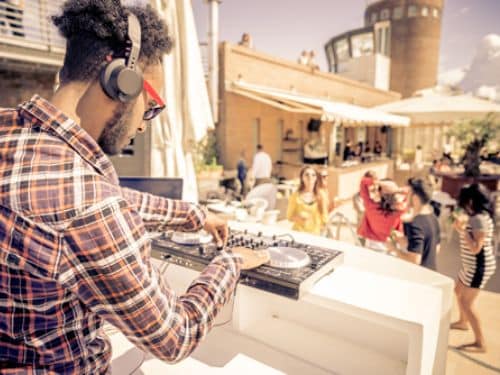 Preferred Oshawa Wedding Venues
We have had the pleasure of DJ'ing weddings at some of Oshawa's most popular wedding venues, including Tosca Banquet Hall, Jubilee Pavilion, Oshawa Convention Center, and Trillium Trails. Our familiarity with these venues allows us to seamlessly coordinate with their staff to ensure a smooth and stress-free experience for you and your guests.
Tosca Banquet Hall: As one of Oshawa's premier banquet halls, Tosca offers a beautiful and elegant setting for your wedding day. Our DJs have had the pleasure of providing exceptional entertainment at Tosca, making it a favorite venue for us.
Jubilee Pavilion: Nestled amidst the picturesque Jubilee Park, Jubilee Pavilion offers a charming outdoor space for romantic ceremonies and lively receptions. With our top-of-the-line equipment and expertise, we can enhance the ambiance and ensure your wedding is a resounding success.
Oshawa Convention Center: The Oshawa Convention Center boasts modern facilities and a sophisticated atmosphere, making it an ideal choice for larger weddings. Our skilled DJs know how to make the most of the venue's acoustics to create an immersive musical experience.
Trillium Trails: Set in a stunning natural landscape, Trillium Trails provides a serene and scenic backdrop for your special day. Our DJs love working at this venue, and we know how to perfectly complement its rustic charm with our exceptional music and lighting services.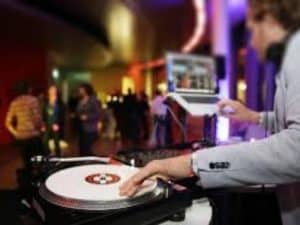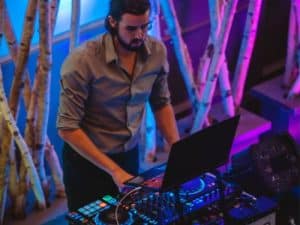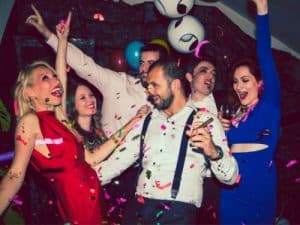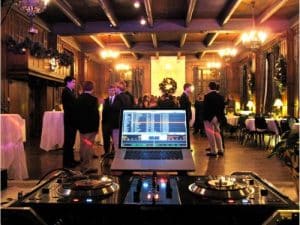 Wedding DJ Services in Oshawa, Ontario
Making Your Special Day Legendary!
At Legendary Sound, we take immense pride in being the go-to choice for wedding DJ services in Oshawa, Ontario. Your wedding day is a once-in-a-lifetime event, and our experienced DJs are dedicated to making it an extraordinary celebration that you and your guests will cherish forever. From the enchanting ceremony to the lively reception, we understand the importance of every moment and curate the perfect playlist to set the mood and keep the dance floor alive. Our personalized approach ensures that your musical preferences and unique style shine through, creating a wedding day that truly reflects your love story. Whether you envision a classic romantic affair or a modern and energetic celebration, our extensive music library and state-of-the-art equipment guarantee a seamless and unforgettable experience. With Legendary Sound, your wedding in Oshawa will be nothing short of legendary!
Corporate Event DJ Services in Oshawa
Elevate Your Corporate Events with Legendary Sound!
Make your Oshawa corporate events, staff parties, and team-building gatherings extraordinary with Legendary Sound Corporate Event DJ Services! We understand the importance of fostering a vibrant and engaging atmosphere for your corporate occasions, and our skilled DJs know how to strike the perfect balance between professionalism and entertainment. From holiday parties to award ceremonies, our music selection caters to diverse tastes, ensuring everyone feels involved and excited to be a part of the celebration. Our top-of-the-line sound and lighting equipment create an immersive experience that captivates your audience and leaves a lasting impression. Let Legendary Sound be your partner in elevating your corporate events to new heights in Oshawa. Trust us to deliver a seamless and memorable experience that will boost team morale, strengthen relationships, and set the stage for an unforgettable event!
School Prom & Grad DJ Services in Oshawa
Unforgettable Memories for Your Graduates!
Legendary Sound takes great pride in providing exceptional School Prom & Grad DJ Services in Oshawa, ensuring that your graduation celebration is an unforgettable milestone in your life. We understand the significance of this special event, and our energetic and experienced DJs know just how to create the perfect atmosphere for you and your fellow graduates. From classic hits to the latest chart-toppers, we curate a diverse and exciting playlist that will keep the dance floor packed all night long. Our state-of-the-art sound and lighting equipment add a touch of glamour to the venue, transforming it into a dazzling dance party. With Legendary Sound as your prom and grad DJ, you can rest assured that every moment of your celebration will be filled with joy, laughter, and lasting memories that you'll cherish for a lifetime.
Private Party DJ Services in Oshawa
Elevate Your Private Events with Legendary Sound!
Planning a private party in Oshawa? Look no further than Legendary Sound for unparalleled Private Party DJ Services that will take your event to the next level. Whether it's a milestone birthday, anniversary, or any intimate gathering with your loved ones, our expert DJs know how to create an engaging and enjoyable atmosphere for you and your guests. We work closely with you to understand your musical preferences and tailor the playlist to suit the theme and vibe of your event. With a vast collection of music spanning various genres, we can cater to any taste, ensuring that everyone is dancing and having a great time. Our top-notch sound and lighting equipment enhance the party's ambiance, turning your private event into an epic celebration. Choose Legendary Sound as your Oshawa private party DJ, and let us make your special occasion truly legendary!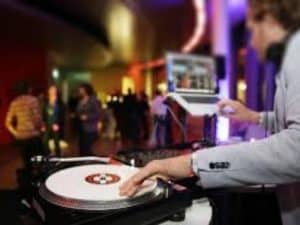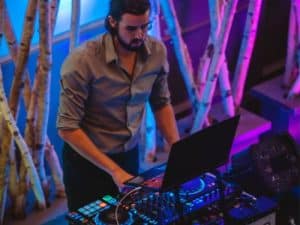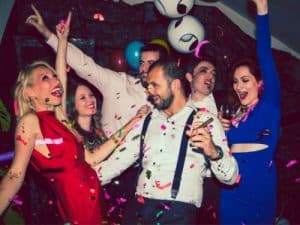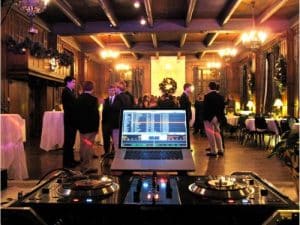 Contact Us Today to Make Your Oshawa Event Legendary!
Let Legendary Sound DJ Services bring the magic of music to your Oshawa event. Contact us today to discuss your event plans, preferred venue, and music preferences. Our team is excited to work with you to create a personalized, unforgettable experience. Trust us to make your dream event a reality!