Wedding DJ Packages
Affordable Wedding DJ Services for couples with any budget
No Matter Your Budget
We've got the perfect package waiting for you.
How Much Does It Cost to Hire a DJ for a Wedding?
~ What to know before you book ~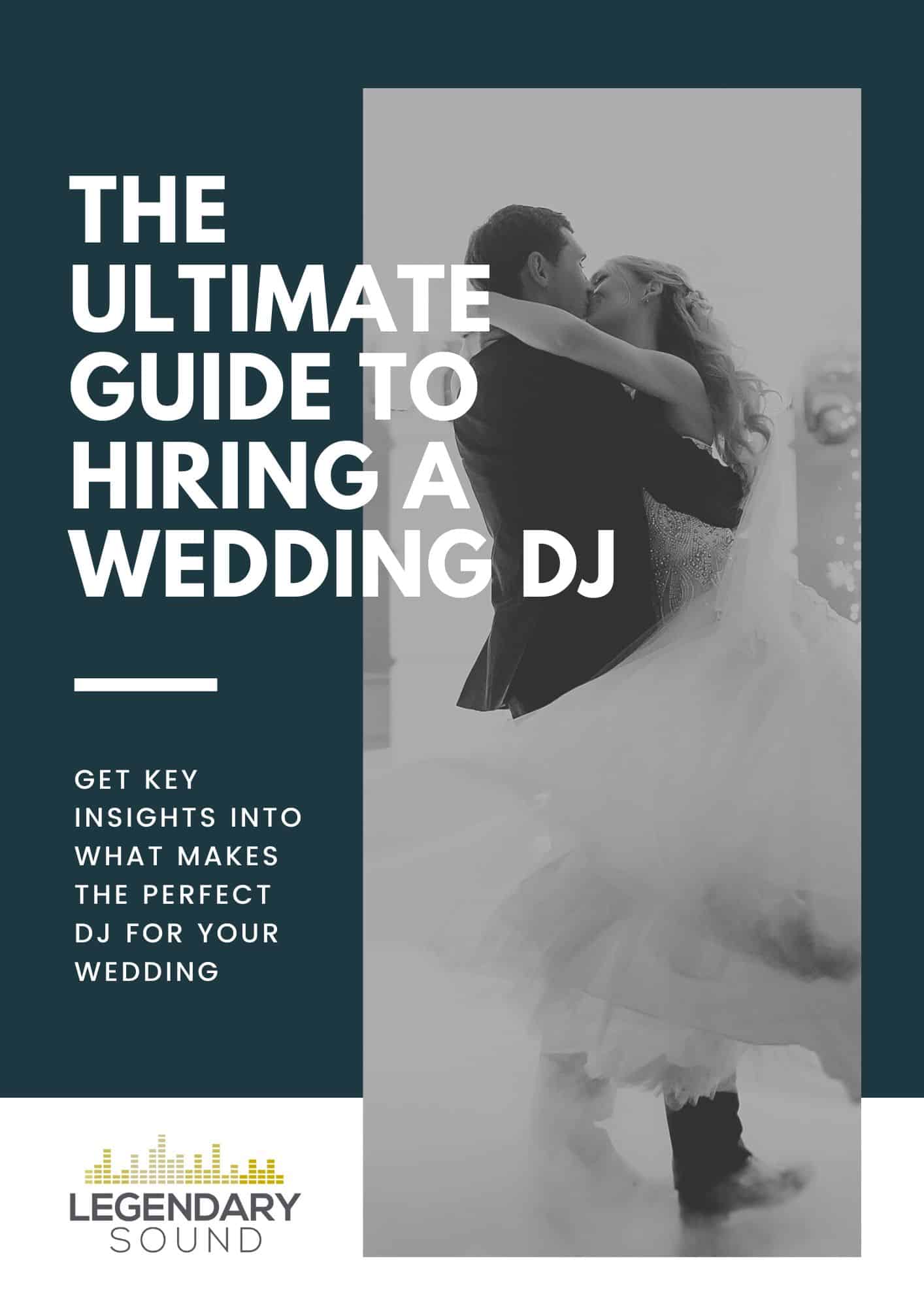 Hiring A Wedding DJ?
This guide will help you discover everything you need to know about how to hire an exceptional DJ for any wedding. This guide is the culmination of years of research and experience in the wedding DJ industry. Inside you'll uncover;
Tips & Recommendations on hiring an exceptional DJ

Cost-Saving Ideas and industry pricing insights

Expert Advice on each aspect of hiring your DJ
What Is The Average Wedding DJ Cost? If you're new to hiring a Wedding DJ as most couples are, it can be hard to navigate the variety of pricing and offers out there in the wedding industry. While some DJs are only charging a couple of hundred dollars, others seem to...
read more
Wedding DJ Package Bundles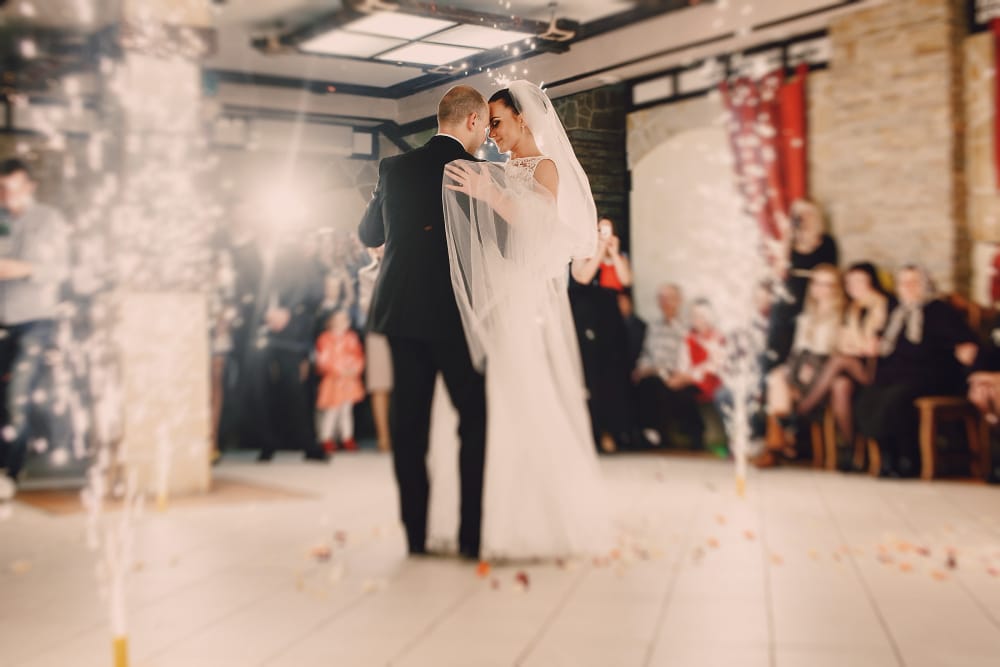 ~ Our Most Luxurious Package Available ~
Legendary Wedding DJ Package
Experience the pinnacle of luxury with our Legendary Wedding DJ Package. This exclusive all-inclusive package is meticulously curated to provide you with the very best we have to offer, ensuring your special day is nothing short of extraordinary. Prepare to be amazed as our premium DJ setups, complete with high-end lighting and cutting-edge sound systems, set the stage for an unforgettable dance floor experience. As a finishing touch, we've included sought-after add-ons, such as enchanting indoor fireworks, mesmerizing dry ice effects, a trendy photobooth to capture cherished moments, and a captivating slideshow that showcases your beautiful journey together.
~ Our Most Popular DJ Bundle ~
DJ & Photobooth Bundle
The DJ & Photobooth Package promises an unforgettable wedding experience, filled with love, laughter, and magical memories that will be treasured by you and your guests for years to come. Let us elevate your wedding day to perfection with this legendary combination of our two most popular services.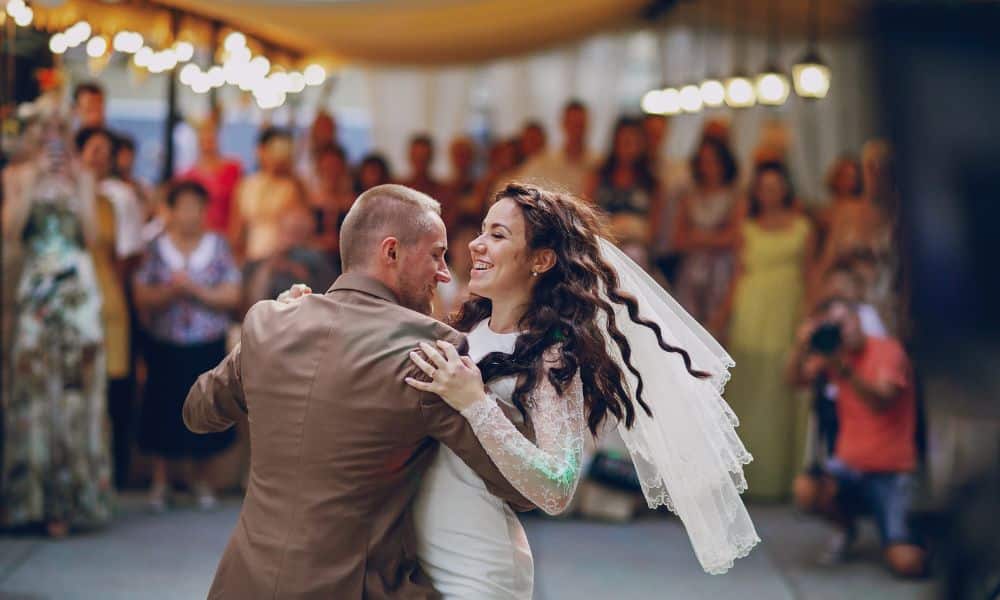 Wedding Reception
Silver Package
Pro DJ for up to 8 hours

✔️ Premium Digital Turntables

✔️ Full Emcee Duties

Silver Sound System

✔️ Sound for up to 150 people

✔️ Two Powered Full-Range Speakers

Silver Lighting System

✔️ Two Multi-Effect Dance Lights
Ceremony & Reception
Gold Package
Pro DJ for up to 10 hours

✔️ Premium Digital Turntables

✔️ Full Emcee Duties

Gold Ceremony Package

✔️ Dedicated Sound System

✔️ Wireless Mic for Officiant

Gold Sound System

✔️ Sound for up to 200 people

✔️ Two Powered Full-Range Speakers

Gold Lighting System

✔️ Two Multi-Effect Dance Lights

✔️ Four Atmospheric LED Up-Lights
Ultimate Wedding Package
Platinum Package
Two Pro DJ's for up to 12 hours

✔️ Premium Digital Turntables

✔️ Full Emcee Duties

✔️ Premium DJ Booth

Platinum Ceremony Package

✔️ Dedicated Sound System

✔️ Wireless Mic for Officiant

✔️ Record Vows and "I Do's"

Platinum Sound System

✔️ Sound for up to 300 people

✔️ Two Powered Full-Range Speakers

✔️ One Powered Sub-Woofer

Platinum Lighting System

✔️ Two Multi-Effect Dance Lights

✔️ Eight Atmospheric LED Up-Lights

Package Bonus

✔️ $250 add-on credit

✔️ Special commemorative gift
Receive up to 15% off your Wedding DJ Package
Discounts available for a limited time on select packages.
SMALL WEDDING DJ PACKAGES
Micro Wedding
*does not include big dance party
Music Master for up to 5 hours

✔️ Extensive Music Selection

❌ Turntables for mixing

Basic Ceremony Package

✔️ Music Before & During Ceremony

✔️ Wireless Microphone

Basic Sound System

✔️ Sound for up to 60 people
Cocktail Wedding
Pro DJ for up to 6 hours

✔️ Basic DJ Booth

✔️ Light Emcee Duties

Basic Sound

System

✔️ Sound For Up To 100 People

✔️ Two Powered Full-Range Speakers

Basic Lighting System

✔️ Simple Dance Light
Small Reception
Pro DJ for up to 7 hours

✔️ Basic DJ Booth

✔️ Light Emcee Duties

Basic Sound System

✔️ Sound for up to 100 people

✔️ Two Powered Full Range Speakers

Basic Lighting System

✔️ Simple Dance Light
~ Be Your Own Wedding DJ ~
DIY Wedding DJ Package
 With a consultation from a seasoned Pro Wedding DJ, you'll receive expert advice on running your own wedding music, ensuring a seamless and unforgettable experience. Choose from a variety of wedding-certified playlists sorted by genre, mood, and type, ensuring the perfect soundtrack for every moment of your celebration. Our comprehensive equipment rental guide will equip you with the knowledge to set up and operate the necessary equipment, empowering you to create a memorable wedding atmosphere that reflects your unique love story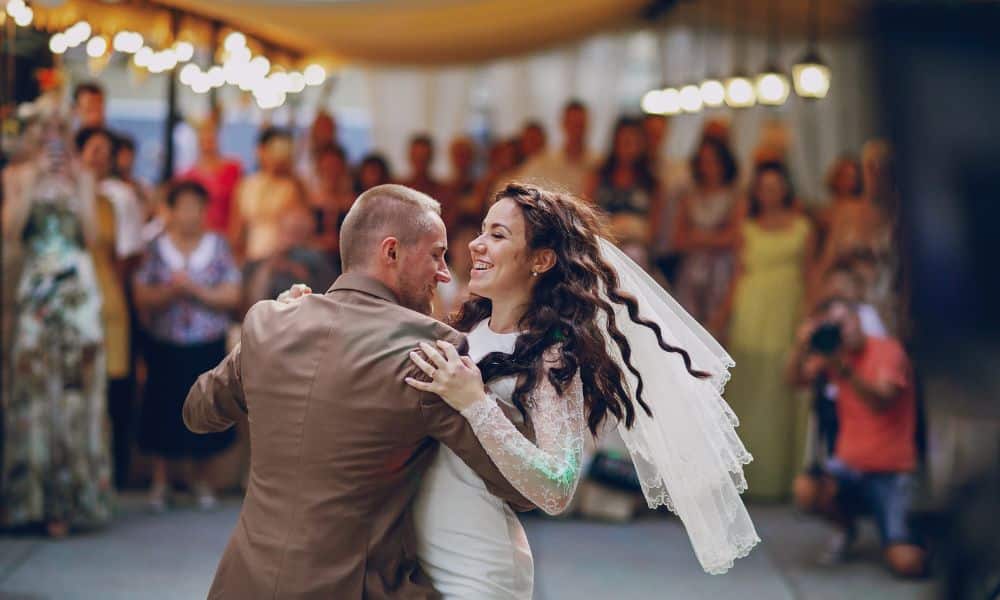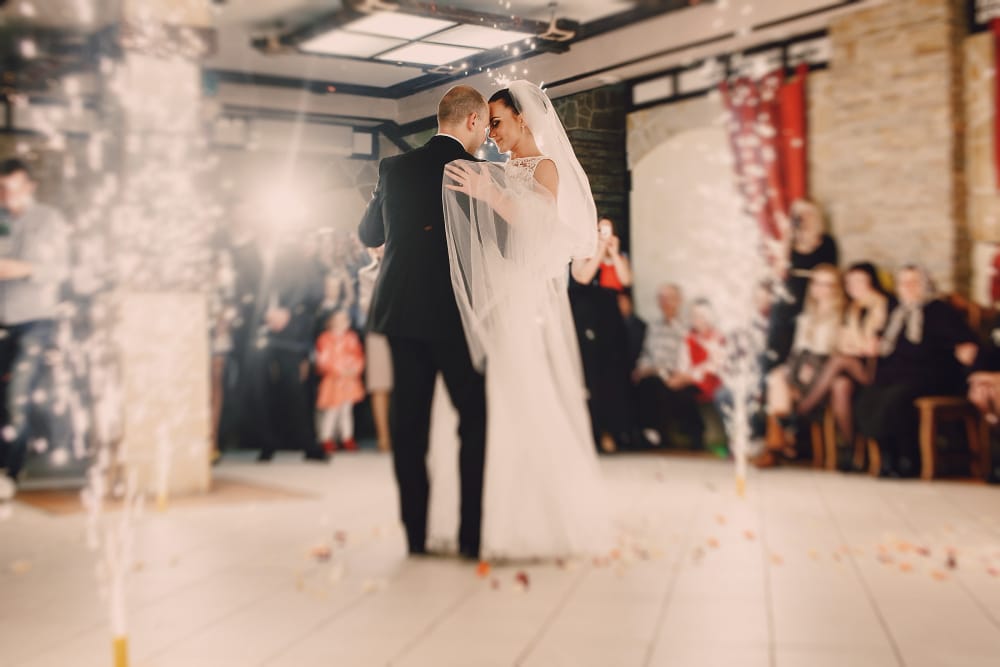 ~ Pre-Wedding Party DJ Packages ~
Jack & Jill – Buck & Doe
Whether it's energetic line dances, classic sing-alongs, or the latest chart-toppers, our versatile playlists will have everyone on their feet, celebrating your upcoming wedding in style. Let us set the perfect party atmosphere, complete with top-notch sound and lighting equipment, creating a night to remember for you and your guests. With Legendary Sound DJ services, your Jack & Jill or Buck & Doe party will be an unforgettable prelude to the joyous wedding day ahead.
~ All Of Our DJ Packages Include ~
DJ Package Attributes
Highly Experienced Wedding DJs
All of our DJs are incredibly professional with more than a hundred weddings under their belt, experienced in all popular music genres and are able to create exceptional musical experiences for all of your guests.
Wedding Emcee Services
All of our DJs are trained as wedding emcees and we take this job seriously. Basic emceeing is included in all of our DJ packages but certain emceeing may require additional charges or a different package
Incredible Music Mixing
All of our DJs are incredibly skilled in mixing music from different genres and eras in order to cater to the tastes of all of your guests no matter their background, taste or preference.
Licensed and Insured DJs
All of our DJs are licensed and insured through the Canadian Professional DJ Association which means you can rest easy knowing everything we do is "above the board."
Online Planning Tools
We have a suite of online planning tools that will help you organize all of your music and details for your special day. From music requests to day of timeline and an exceptional planning form to keep track of all your most important wedding details.
Wedding DJ Consultations
You'll get a chance to meet your Wedding DJ long before your wedding. Our details meeting will give you a chance to get to know your DJ, ask any questions you may have and get an informative walkthrough of our online planning tools.
Guest Music Requests
Being a great wedding DJ is all about playing the music that you and your guests want to hear, which is why all of our DJ's are open to requests from you and all of your guests, all night long.
Wedding Planning Resources
We have an exceptional amount of resources on our blog to help you make informed decisions on everything from your first dance song to your last dance of the night.
Wedding DJ Lighting
We take an elegant approach to dancefloor lighting which means no obnoxious strobe-lights, lasers or fog machines unless requested by our clients. We want to ensure all of your guests enjoy the experience.
Premium Equipment
We take our gear very seriously which is why you will only find premium equipment at all Legendary Sound events. From our laptops to our cables, we take pride in selecting only the best equipment for our events.
Setup & Strike On Us
You won't ever have to pay for our setup or teardown. All of the hours shown in our DJ packages are based on the performance time of the DJ and our setup and teardown are completed on our own time.
FailSafe Backup Systems
No matter how careful you are, sometimes things will still go wrong thanks to Muphy's Law. Thats why we plan for things to fail and bring a backup for just about any point of failure in our system.
Get connected with our wedding music experts.
An initial consultation is the best way for us to provide you with an accurate quote.

~ Enhance Your Package With These Amazing Add-ons ~
WEDDING DJ PACKAGE Enhancements
Indoor Fireworks $1000+
One of the most spectacular add-ons to any wedding, our indoor fireworks and cold sparklers shoot a mesmerizing fountain of sparks into the air. Best for your first dance or grand entrance.
Fire & Ice $1200+
The most extravagant, de luxe, bougie add-on that we offer. Fire and Ice combine Indoor Fireworks with Dry Ice to make your first dance or grand entrance legendary.
Dry Ice Effect $350+
Our incredible dry ice effects literally transform your dance floor into a bed of soft clouds as though it were straight out of a fairy-tale. This is our most popular package add-on!
Sound Upgrade $250+
Looking for a sound upgrade? We've got the perfect solutions for your needs. From an extra speaker to a set of powered bass bins good for parties of 500 people or more.
Ceremony $300
We can add ceremony coverage to any package! You'll get a wireless microphone for your officiant, a separate speaker system, and all of the music before and during your ceremony.
Lighting Upgrade $250+
A little extra light can go a long way! From beautiful atmosphere lights that will make your venue pop to moving heads with trusses, we can help you transform any venue into your dream venue.
Photobooth $800+
Want to spice up your reception with an epic open air photo booth with unlimited photo printing, tons of props and memories that can't be forgotten? A photo booth may just be the best thing for you!
Wedding Slideshow $300+
Want to put together a beautiful arrangement of pictures and videos to display in a slideshow during your reception? Not only can we provide you with a projector and screen, but we can even help you to produce, edit and run the slideshow!
Wedding Video $800+
Dreaming of a beautiful wedding video but don't want to pay a small fortune for a videography team? Our popular alternative to a traditional wedding video still captures your most precious moments without breaking the bank.
Premium DJ Booth $450+
Our elegant DJ booth facades will add an immeasurable touch of class to your wedding. Choose from a variety of finishes to match your aesthetic perfectly.
Podium DJ Setup $500+
Place your DJ right in the middle of the action with a podium-style DJ booth, allowing your guests to have an up-close and personal experience with one of our most skilled mix masters.
Classic Vinyl Turntables $250+
Want to incorporate that classic Disc Jockey aesthetic into your wedding? Nothing says class more than a set of traditional Vinyl turntables and records. This upgrade includes a set of Technik 1200 turntables or equivalent, along with a mixture of vinyl and digital music.
CO2 Gun $350+
Your guests will have an absolute blast with our legendary CO2 gun which sprays a cloud of compressed air onto the dancefloor.
Karaoke Setup $450+
Get a full karaoke setup complete with a monitor for lyrics and additional microphones so that you and your guests can enjoy some karaoke fun during your wedding.
Powerless Ceremony $250+
Hosting your wedding ceremony in a remote location with no access to power? We can bring a full battery backup system to power our ceremony setup with a wireless microphone and speaker system.
Wireless Microphone $100+
Need additional wireless microphones? No problem, we can add wireless handheld or wireless lapel microphones wherever needed.
Mixing Board $150
Required to allow any musicians to patch into our Soundsystem by extending the number. of audio channels that we can add. Perfect if having a musician perform during your wedding without their own speaker system.
Custom Mix $100+
We can create a custom mix for any event either to be played during the event or given away as a promotion/keepsake before or after your event.
Travel Fee $50+
For weddings outside of our standard service area, we will need to charge a minimum of $50 for the additional gas and time to commute.
Hotel Accommodations $200+
If your wedding requires more than 2 hours of driving, your DJ may require overnight accommodations.
Additional Vehicle $150+
In certain cases, we may need to bring an additional vehicle in order to transport all of the equipment needed for your wedding! If so, we may need to charge extra for logistics, transportation and staffing.