What Type of DJ Should I Hire?
The cost of hiring a wedding DJ can vary based on several factors including the type of Dj desired, location of your wedding venue, event date, venue size guest count as well as the variety of services or add-ons required. Most DJ Services can be categorized into the following three tiers.

The Three Tiers of Service Quality for a Wedding DJ are;
Budget DJ Services ($400-800)
Professional DJ Services ($800-2000)
Premium DJ Services (More than $2000)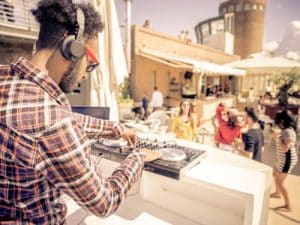 Budget-Friendly DJ Services $400-800
If you are looking for DJ services on a smaller budget, there are many DJs out there who can help you put together an awesome event without breaking your bank. From newer DJs looking to build their portfolio to Freelance DJs who don't have the same overhead expenses as Pro DJ Companies, there are a variety of low-cost DJ options. Some DJ Companies also offer alternatives to traditional DJ Services such as DIY Wedding DJ or equipment rentals. 
Some Budget-Friendly Options Include;
Freelance DJs
Micro Weddings
DIY Wedding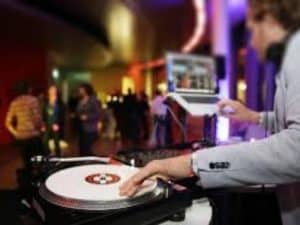 Professional DJ Services $800-2000
Since the DJ will likely be operating the microphones, it's not uncommon for them to be the host of any games, wedding events, or announcements during your wedding. They will introduce you and your bridal party to the entire room, announce your first dance, and even mingle with your guests as they request music. A master Wedding DJ/MC will also interact with your guests in a way that leaves them feeling excited and energized.
What to Expect from a Professional Wedding DJ;
Highly Skilled DJ & MC
Tons of Wedding Industry Experience
Professional Lighting & Sound
Licensed and Insured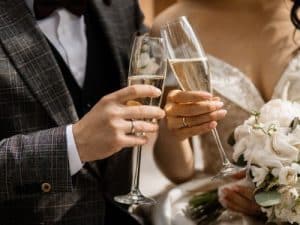 Premium DJ Services $2000+
Premium DJ services are becoming more and more popular in North America as the wedding industry continues to grow. In addition to the services offered by many professional DJ companies, premium service providers also offer a level of customer service beyond your expectations. From top-of-the-line sound and lighting equipment to personalized gifts and keepsakes they work closely with couples to craft the ultimate wedding experience.
Some Premium DJ Services Include;
Destination Weddings

Luxury Weddings

Multi-day Events
All-inclusive Weddings